Butyl Rubber
Butyl rubber offers a multitude of solutions and is used in a variety of industry applications. It offers excellent weathering, UV and aging resistance.
Butyl rubber is suitable for both indoor and outdoor applications. It also provides excellent sealing against air, water and dust migration. Butyl rubber has a shore hardness of 65° ± 5° and consists of a smooth finish on both sides. Butyl rubber is a highly resistant material and is used within a number of key industries, including industrial, commercial vehicle and construction, for a variety of solutions.  Providing excellent sealing (gas/compressed air) and anti-vibration/NVH solution for a number of key applications. However, Butyl rubber is not recommended for use with oils, petroleum and a variety of mineral solvents.
Material Properties
Excellent sealing properties (air, dust and water migration)
Good temperature range (- 40°C to +140°C)
Good UV and o-zone resistance
Good thermal insulation
Good ageing resistance
At Ramsay Rubber we only use materials from industry approved suppliers. In partnership with our supply partners Nitto, Recticel, Armacell, Sekisui, Avery Dennison, 3M and Zotefoams we can offer a wide range of high-performance sponge, foams, fabrics and rubber materials. Consequently, this enables us to achieve customer specification and manufacture high-quality products.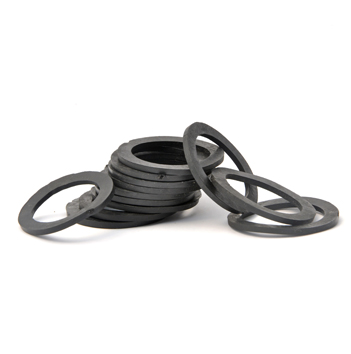 Thicknesses manufactured:
1mm, 1.5mm, 2mm, 3mm, 4mm, 5mm, 6mm, 8mm, 10mm, 12mm, 15mm and 20mm
Butyl Rubber Products
Butyl rubber products can be used across a wide range of industry applications. Select a product category below to find out more information regarding our custom product solutions.
Butyl Rubber Samples
Ramsay Rubber have the capability to manufacture custom made butyl rubber samples to support project development. If there are several materials under consideration, we would be happy to provide you with a sample pack, which have a range of open cell, semi closed cell, closed cell and solid rubber materials.
Our Guaranteed Service
Our products are supplied in a condition of supply that complement our customer's process/assembly requirements, with product development and technical support from our project management team with full APQP, FMEA planning and PPAP approval.
If you require additional information Please feel free to get in touch, to speak with one of our team of experts online, via e-mail enquires@ramsayrubber.com  or call us on +44 (0) 1902 407150 alternatively you could simply fill out our online contact form. We look forward to hearing from you.